Happy New Year, friends!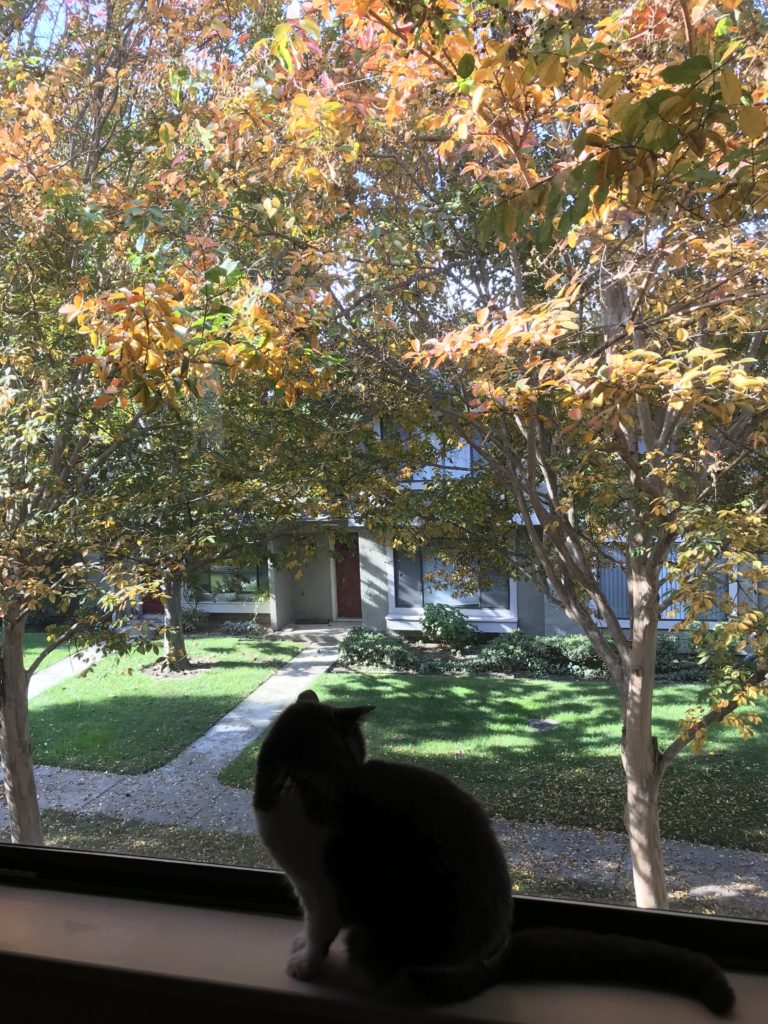 Yes, I'm finally back. Our trip to Japan was incredible, and I do plan to post about it soon, but for now I want to jump into the "fresh new year full of possibilities" Zeitgeist and resume blogging.
The blog has been quiet, but my life has not! I went to Japan after a twelve-year absence, took a trip home to Michigan and Ohio with a side road trip to Tennessee, continued volunteering, moved again (the photo above is the view from our new home), and continued to think, "I really need to get back to blogging!" pretty much every day. Well, here I am!
I've also been doing a lot of reflecting on my goals for my work, my family, and my life in general. Going back to Japan after twelve years reignited my motivation to master Japanese. To be honest, I really haven't improved my Japanese skills in all that time, I don't think; in fact, I'm sure I've forgotten a lot because I haven't kept myself immersed in the language. Even on the short trip we took, so much came back to me. I especially realized this when we visited my former host parents and お母さん (Okaasan – "Mother") mentioned getting out the おつまみ (otsumami – "snacks") for us to share. If you had asked me one minute prior to that what the word for "snacks" was, I wouldn't have been able to tell you, even though I knew I'd known it when I lived in Japan. Suddenly it was back in my brain, hopefully to stay!
I desperately want to live in Japan again, but until that opportunity comes, there's no better time in history to be able to enjoy and learn through Japanese media, which are more available than ever thanks to the internet. In addition, we currently live in the Bay Area of California, a land replete with Japanese markets and bookstores (at least compared to where I'm from!) where I can easily procure Japanese books, food products, and free regional magazines in Japanese, not to mention a decent number of local Japanese people with whom I could speak in person. I really have no excuse to stay in my upper-intermediate rut. Being able to function in Japanese is not good enough — I want to be awesome at it!
With that goal in mind, I've joined a kanji-learning site called WaniKani (not a paid endorsement — I wish!). In fact, I'm about to pull the trigger on joining the lifetime membership to the site while their annual sale is still on. Only the first three (out of 60) levels are free, and I'll soon be finishing the third level. Obviously I like it enough to pay a couple hundred dollars for lifetime.
Out of the 300 or so kanji and vocabulary words I've unlocked so far, I already knew almost all of them already (this site teaches kanji in a slightly different order than other books I've used), but I'm taking the long view here. Even if it takes me six months or longer to get to mostly-new content, if I know 2000+ kanji and thousands more words in a couple years, it's worth it! I've had many books and found many websites, yet I haven't been motivated because the goal seems too large. WaniKani's teaching methods (to be discussed in detail in future posts) and gamification have me motivated to finish it all, while the other books and sites have not. I've been in a rut for too long and I think this is my key to being able to pass the JLPT N1 in two or three years.
When I tutor Japanese, I realize how much knowledge I have that I take for granted, and I certainly have a lot to offer beginner and low-intermediate students. I've gleaned a ton from all my studies and living and working in Japan, but I haven't had the motivation to push myself to that higher level. Having the goal of finishing WaniKani will get me there. I'll be writing much more about this process as I go.
To switch gears, I'm also working on an online TEFL (Teaching English as a Foreign Language) certificate, "just to have the piece of paper" as I'm known to say. I'll be writing about my progress with that as well. I'm already through 11 modules out of 27 or so. It's supposed to be a 160-hour course, but with my prior experience and knowledge, I think it'll take me much less time.
Finally, I'm strongly considering becoming certified as a Spanish medical interpreter. I'll go into detail about how and why in future posts.
As you can see, I have plenty of goals on my plate, long- and short-term, and I plan to use the blog to keep myself accountable and share my experiences for anyone who may be interested in similar pursuits. In addition, I'm always open to tutoring English, Spanish, and Japanese, online or in person.
I hope your 2018 is starting off well, and that you're just as excited about what's in store for your year!
明けましておめでとうございます。今年もよろしくお願いします!
¡Prospero año nuevo! Espero que logren sus deseos este año y que 2018 sea un gran éxito para todos.